Meet Ruben Gamez of Bidsketch.com and Docsketch.com
Many entrepreneurs have dipped their toes into blogging but not many have gone far. A lot of factors may have played in failure. Perhaps the lack of courage, determination, persistence? There are also instances wherein a venture is progressing but suddenly plateaus in growth. This is often the result of complacency. Successful business owners can attest that facing challenges head-on have led them to great accomplishments and the total lack thereof can do more harm than good.
For Ruben Gamez, he didn't even have to wait for the challenge to come. He got into blogging by getting out of his comfort zone and challenging himself. Today, he continues to excel as an entrepreneur by constantly finding ways on how to improve his tactic. Learn more about Ruben in this week's episode of Meet the Bloggers.
1.) Please tell us about yourself and how you got into blogging?

I started blogging as a marketing experiment and to prove to myself that I would be able to sell my first product. At the time I was working a full time job and had an idea for a software product, but wasn't sure if I'd be able to bring in enough traffic to make the idea viable.
By this point I had read enough about marketing to realize that blogging was a great way to bring in qualified traffic. I quickly did some keyword research and found a topic that I could write on, and published a post (one week later).
The goal was to see if I could actually bring in traffic, and how long it would take for that traffic to start coming in. After two weeks I started getting traffic to that post (through Google)! I was hooked on content marketing at that point.
2.) What is the focus of your blog and why did you choose that niche?
Initially we started with a very narrow focus of writing about proposals for designers. That's because at the time, our product was very niche and that was our target audience.
For example, one of the better performing posts we had at the time, was literally titled "How to Write a Web Design Proposal," which still performs well for us. As you can imagine, there's only so much of that type of content you can write for a specific niche.
I quickly realized that it was too narrow and eventually expanded to blogging about helping freelancers, agencies, and consultants land more clients.
We went in this direction after talking to enough customers and seeing what interests they had, and what type of content they liked.
3.) How are you currently monetizing your blog traffic?
We have an online software product called Docsketch. So the main way that we monetize our blog is by converting a portion of readers into customers.
It tends to be a longer process because instead of pushing visitors directly into a trial of our product, we work to get them into a drip campaign. From there we can better educate them and build trust. Eventually, some people give Docsketch a try and become customers.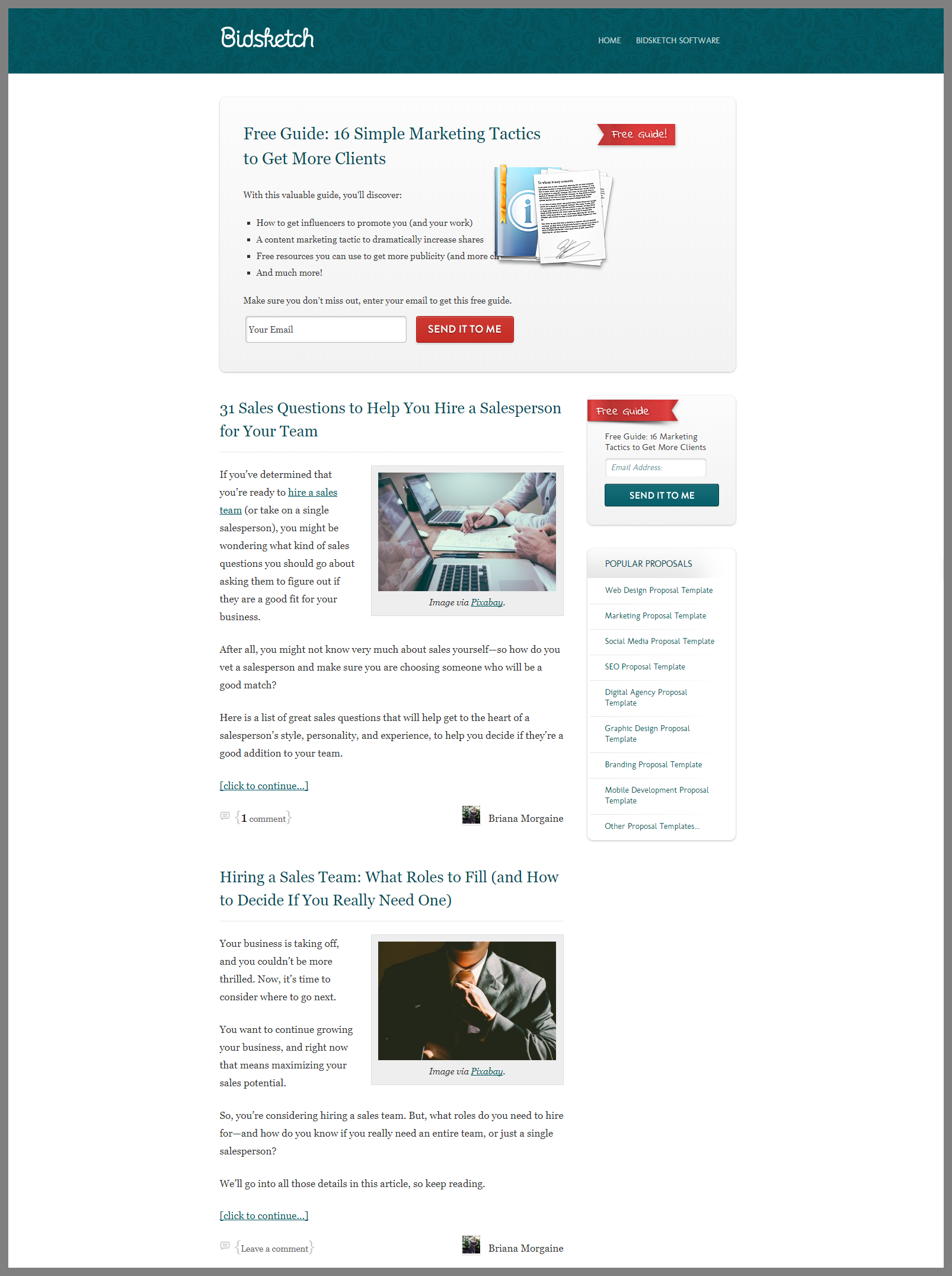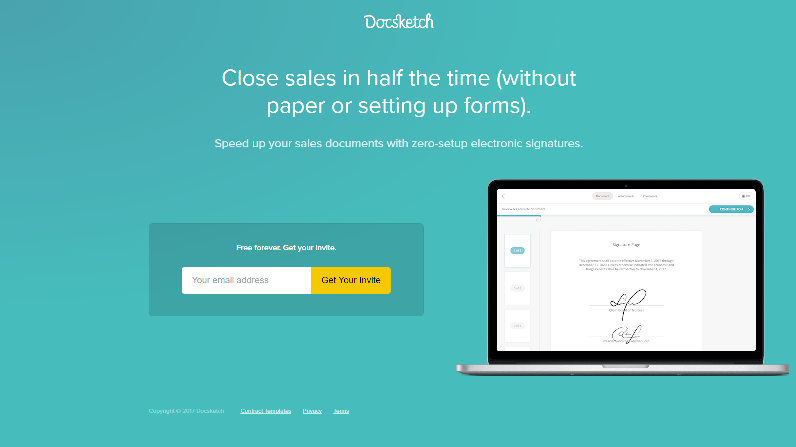 4.) What do you know now that you wish you knew when you first started blogging?
Great question. I wish I knew enough to focus on the right type of content, and not pick topics by guessing what would appeal to our audience. Nowadays, we're a lot better about picking our topics.
For example, one approach, is to start by focusing on a larger category and growing that through individual pieces of content. We're actually doing that right now, with a "contract templates" section on our site: https://www.docsketch.com/contract-templates/
Based on researching what our target customer is looking for, we are expanding that page with individual pieces of content that can also bring in traffic (like a specific type of contract template). This helps in that you can slowly build authority in a very large category, and the individual contract templates will inherit that authority.
Another approach we take is using tools like Hotjar to run microsurveys so we can ask visitors that aren't on our email list, what we should write about. We even do phone interviews with some of these visitors (and offer them an Amazon gift card for 15 minutes of their time).
5.) What are three blogs that you visit almost daily?
Well, I'll give two blogs because I'm having a tough time thinking of three.
My current favorites:
The Sumo.com blog which focuses on growth stories (so good):
The James Clear blog which focuses on personal improvement through fitness, psychology, and more.
6.) Can you give us three recommended tools/services that you use with your blogging?
Hotjar for microsurveys, visitor recordings, etc
Sumo.com for email collection of all types
Moz for traffic, keywords, and more
7.) What advice would you have for someone who is just starting with their first blog?
Look at the top five blogs that you love to read, and deconstruct them. Work backwards. Why do you like them so much?
Don't look at the specifics of how they're doing things (images, content length, etc.), instead look at how their positioning hooks you, or how their topic choice gets you coming back. Look at the high level things that make a big difference.
From there, spend some time brainstorming how you can use some of what you've learned on your own blog. Then, spend lots of time researching, writing, and promoting 🙂
8.) What's the best advice or tip you've discovered about blogging since getting started?
I think the best advice I've heard (and that I still try to internalize) came from Derek Halpern. Spend 20% of your time writing, and 80% promoting. That doesn't mean write for 30 minutes and promote a weak piece of content. That means, that whatever time it takes to write a very high quality piece of content, spend 4x that long promoting it.
One interesting side effect is that you start looking at whether the topics you're writing about are worth that type of promotion time.
9.) If you only had $100 to start a new blog, how would you use it?
I'd use part of it on Sumo.com tool to help me collect leads, the rest on hosting. After that, it's really just my time on research, writing, and promoting.
The most valuable things that need to be done on a blog don't cost money. They do involve you investing some time doing them though.
10.) How can readers of the blog get in touch with you?
My personal twitter and our product.
Are You Afraid to Color Outside of the Blogging Lines?
I am coloring with my 2 year old niece now.
Blog post idea; after 2 photo snaps and a quick analogy realization I figured coloring with a 2 year old conveys a blogging success lesson to you.
My niece does not fear coloring outside of the lines. She is smart as a whip but has yet to master the concept of coloring inside of the lines. Few 2 year olds get this idea.
Scribbling like mad, her work consists of zags, hard lines, zigs, and you better believe she colors almost exclusively outside of the lines. She is as happy as a lark to break the rules, to just be coloring. Coloring is fun to her. Who cares if she stays in the lines?
I instantly thought of my blogging career.
I retired to a life of island hopping through smart blogging by coloring outside of the blogging lines, choosing to do what feels fun to me versus doing what bloggers said I should do.. No email list at Blogging From Paradise. Not much search traffic either because I don't do the SEO thing. I publish up to 4 blog posts daily. No doubt; I follow certain rules and do color inside of the lines sometimes but largely succeeded because I blog outside of the box, following my fun, pursuing my passion.
You may look at me and wonder how in the heck I do it? You follow all common blogging rules diligently. Yet you may struggle. What gives?
Blogging is an energy game. If you do what feels fun to you, you will succeed wildly. Even if you break rules in the process.
Even though I promote 1 blogging eBook above all else I still wrote 126 eBooks. Big time rule breaker guys. Most bloggers only write 1 eBook and promote the stuffing out of it before moving on to the next eBook. Nothing wrong with that but this is usually a scarcity mindset in action. I preferred to think abundantly and wrote my rear end off. Coloring outside of the lines. Blogging outside of the box.
Follow Some Blogging Rules But Break a Bunch
Nobody becomes wildly successful or lives a dream life through blogging by following all the rules. Rule breakers stand out from the crowd.
Breaking some blogging rules is just like coloring outside of the lines. Some bloggers believe your blog looks a bit sloppy, or disorderly, or that you are doing things wrong, if you color outside of the blogging lines. But these bloggers are usually totally obsessed with doing things perfectly, struggling like heck because nobody is perfect and when you try to be perfect you will fail. Perfection is the fear of failure and the fear of criticism, combined. Don't let bloggers who color inside of the lines fool you.
How to Succeed by Coloring Outside of the Blogging Lines
Follow your intuition guys.
Listen to the small, still voice.
Trust your gut.
Do what feels most fun to you; not what bloggers say you should do.
I do not build an email list. This is coloring outside of the blogging lines.
Yet I live a life few bloggers live, spending months in Fiji, Bali, Thailand and Costa Rica among other tropical paradises.
No SEO on Blogging From Paradise because I do not want to depend on search traffic. Yet I have circled the globe for the past 7 years as a full time digital nomad.
Break some rules guys.
Do freeing, fun and highly uncomfortable things. Even if doing so pulls you away from the blogging herd.
Color outside of the blogging lines guys.
Live your wildest dreams.
How Do I Teach Bloggers if I Am a New Blogger?
I see that question popping around in your head.
The same question danced around in my head 10 years ago. How could I teach people how to blog if I did not know how to blog? Plus I had no connections. No skills either. Big time problem.
Here is how to solve your problem:
learn how to blog from top pros
write 500 words daily offline
publish 1-2 posts weekly, turning around and teaching what you learned
continue to learn both about blogging and your blogging niche
Learn then teach.
Or absorb then teach.
Jan Verhoeff published this post yesterday:
5 Ways to Broaden Your Blogging Tips for Expansion and Depth
She led off the post explaining how she watched one of my Facebook Live Broadcasts recently and delved deeper into the topic I discussed, said topic being blogging overlap.
Jan is a seasoned veteran blogger but she and I both use this concept of learning or absorbing then immediately teaching the concept to our readers. Knowledge ain't getting stale in our brain boxes.
Newbie bloggers; I get it. You may feel intimidated to learn, then to teach. But being a blogging student is hands down your most important role as a new blogger because learning and studying gives you confidence to turn around and teach your new found knowledge quickly.
Check out my guest post on Janice Wald's Mostly Blogging:
8 Ways to Become a Student of Blogging
Janice regularly shares this post and noted it still drives blog traffic.
Why?
New and seasoned blogging veterans alike know deep down we are all perpetual students. Plus we know that in order to teach we must first learn, being open and willing students.
Newbie bloggers; you better become a voracious reader of blogging tips and tips aligned with your niche. Learn to gain confidence and clarity. Then you better practice writing like crazy. Pen 500 words daily offline to become a confident writer.
Being armed with knowledge and improving writing skills sets the foundation to learn, then to teach.
Iconic Marketer
10 years ago when I was a new blogger I read a post on Ray Higdon Dot Com.
This iconic network marketer introduced me to the simple concept of how you can teach folks how to succeed in your niche, even as a newbie. Learn. Teach.
Allow little time to elapse between learning and teaching. Teaching does not require 10,000 word blog posts or 45 minute long videos or eBooks or courses.
Practical Examples of Teaching
Peep these examples of how you can learn a concept and teach as a new blogger:
record and upload a 1 minute long video on YouTube
write and publish a 600 word post on your blog
record and upload a 5 minute long podcast
The idea is to learn a concept and to be comfortable teaching the concept without being an expert. Fraud energies may arise guys. Fears attempt to shame you into remaining quiet.  Don't trust these fears. Don't believe these lies.
If you want to become a blogger you better get comfortable with being a teacher because blogging is teaching. If you want to become a teacher you better be a hungry student, learning the in's and out's of blogging and your niche and practicing your writing to more easily convey your blogging message.
Learn.
Teach.
Hit the ground running as a new blogger.
Nobody begins blogging as an experienced blogger.
Nobody begins blogging with blogging skills.
We need to learn and practice persistently as a new blogger to become a successful blogger.
Just don't hesitate to turn around and teach what you have learned immediately, to drive traffic to your blog.
Many people believe me to be lucky.
Folks think I am so lucky to travel the world.
Like a magic fairy alighted on my shoulder, tapped me with a magic wand, and sent me to that location in Bali you see in the featured image.
As if I lucked out to circle around the globe for the past 7 years.
Not quite guys.
Luck does not exist.
Smart, generous work helped me retire to a life of island hopping through smart blogging.
Peep this link:
583 Ryan Biddulph Blog Posts on Blogging Tips
Does that sound lucky? Was I lucky to write and publish 583 guest posts on Blogging Tips alone? Am I lucky to have written and published thousands of blog posts during the past decade I spent online?
Have I been lucky to work hundreds of thousands of hours during my life, in order to retire to a life of island hopping through smart blogging?
Did luck make me a full time digital nomad? Have I been lucky to write and self-publish 126 eBooks?
Luck does not exist.
Smart, energized, years of work, this brings blogging success.
Convenience Store Luck
Back in New Jersey for a bit.
After spending a few moments at the local convenience store I saw no less than 5 people buy lottery tickets.
Folks spend money on a wing and a prayer, hoping, praying, begging to make money through a game of chance.
Forget building a sustainable online business. Forget rendering service to become successful with your blog. Don't even bother investing money in solid vehicles.
Leave your life to chance. See if you get lucky.
Terrible mindset to have guys.
Luck does not exist. No magical fairy blesses some folks and curses other folks. Nobody suffers from bad luck. Chance does not exist.
Smart, intelligent service, persistently applied, exists. Learning and practicing the skill of blogging for 2-4 years of your life exists. Spending 10 years writing and publishing thousands of posts exists. Commenting on 50,000 blogs exists. Being generous exists. Helping folks for months before making a dime exists.
Luck does not exist.
Luck Is a Jailer
If you believe successful bloggers are lucky, that limiting belief jails you. Since you believe you are not lucky you naturally will always struggle and fail. Not a good belief to cling to guys.
Many bloggers think I am:
lucky
blessed
gifted
talented
a natural
but I am not. I just spent years of my life learning, practicing and mastering the skill of blogging. I wrote almost 600 guest posts on Blogging Tips alone. Does that sound like luck, or chance, or like a blessing? Smart, persistent work guys. I committed fully to blogging so blogging committed fully to me. Simple equation but goodness does this journey feel uncomfortable at times.
Early Friday evening, here I am writing this guest post as my 2 year old niece hangs all over me, bopping me on the head. Hardly a crazy challenge but still a bit of a challenge. Try thinking through a post and writing it while a hyper 2 year old does all in her power to grab your attention.
I am not writing this post because Lady Luck sent me the idea. I am writing this post because I have written 2 million plus words during the past decade of my life, so words flow easily for me.
Creating, connecting and polishing my blogging skills by patiently writing and broadcasting live videos daily helped me craft a neat life for me and for my readers.
Generously commenting on other blogs and promoting other bloggers helped me become a pro blogger.
Persisting through thick and thin created my blogging success.
The next time you explain someone's success as a simple matter of luck, think again.
Luck does not exist.