Meet Ruben Gamez of Bidsketch.com and Docsketch.com
Many entrepreneurs have dipped their toes into blogging but not many have gone far. A lot of factors may have played in failure. Perhaps the lack of courage, determination, persistence? There are also instances wherein a venture is progressing but suddenly plateaus in growth. This is often the result of complacency. Successful business owners can attest that facing challenges head-on have led them to great accomplishments and the total lack thereof can do more harm than good.
For Ruben Gamez, he didn't even have to wait for the challenge to come. He got into blogging by getting out of his comfort zone and challenging himself. Today, he continues to excel as an entrepreneur by constantly finding ways on how to improve his tactic. Learn more about Ruben in this week's episode of Meet the Bloggers.
1.) Please tell us about yourself and how you got into blogging?

I started blogging as a marketing experiment and to prove to myself that I would be able to sell my first product. At the time I was working a full time job and had an idea for a software product, but wasn't sure if I'd be able to bring in enough traffic to make the idea viable.
By this point I had read enough about marketing to realize that blogging was a great way to bring in qualified traffic. I quickly did some keyword research and found a topic that I could write on, and published a post (one week later).
The goal was to see if I could actually bring in traffic, and how long it would take for that traffic to start coming in. After two weeks I started getting traffic to that post (through Google)! I was hooked on content marketing at that point.
2.) What is the focus of your blog and why did you choose that niche?
Initially we started with a very narrow focus of writing about proposals for designers. That's because at the time, our product was very niche and that was our target audience.
For example, one of the better performing posts we had at the time, was literally titled "How to Write a Web Design Proposal," which still performs well for us. As you can imagine, there's only so much of that type of content you can write for a specific niche.
I quickly realized that it was too narrow and eventually expanded to blogging about helping freelancers, agencies, and consultants land more clients.
We went in this direction after talking to enough customers and seeing what interests they had, and what type of content they liked.
3.) How are you currently monetizing your blog traffic?
We have an online software product called Docsketch. So the main way that we monetize our blog is by converting a portion of readers into customers.
It tends to be a longer process because instead of pushing visitors directly into a trial of our product, we work to get them into a drip campaign. From there we can better educate them and build trust. Eventually, some people give Docsketch a try and become customers.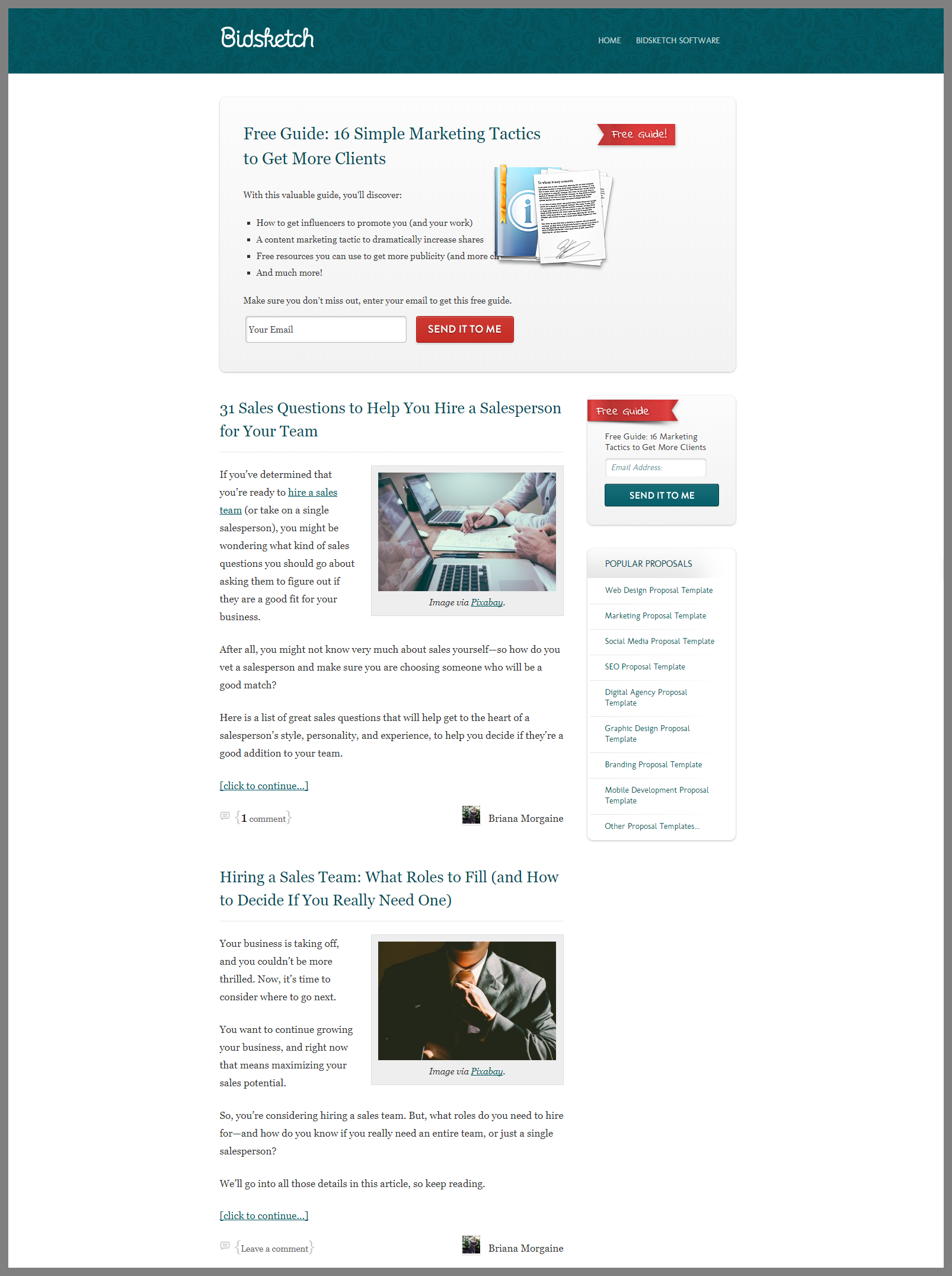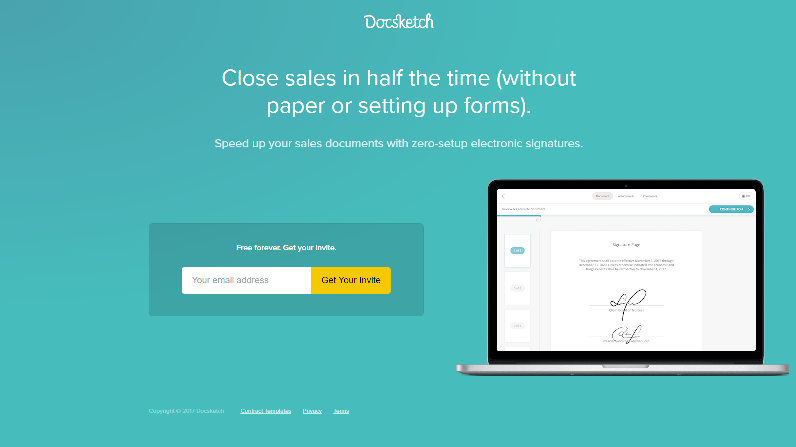 4.) What do you know now that you wish you knew when you first started blogging?
Great question. I wish I knew enough to focus on the right type of content, and not pick topics by guessing what would appeal to our audience. Nowadays, we're a lot better about picking our topics.
For example, one approach, is to start by focusing on a larger category and growing that through individual pieces of content. We're actually doing that right now, with a "contract templates" section on our site: https://www.docsketch.com/contract-templates/
Based on researching what our target customer is looking for, we are expanding that page with individual pieces of content that can also bring in traffic (like a specific type of contract template). This helps in that you can slowly build authority in a very large category, and the individual contract templates will inherit that authority.
Another approach we take is using tools like Hotjar to run microsurveys so we can ask visitors that aren't on our email list, what we should write about. We even do phone interviews with some of these visitors (and offer them an Amazon gift card for 15 minutes of their time).
5.) What are three blogs that you visit almost daily?
Well, I'll give two blogs because I'm having a tough time thinking of three.
My current favorites:
The Sumo.com blog which focuses on growth stories (so good):
The James Clear blog which focuses on personal improvement through fitness, psychology, and more.
6.) Can you give us three recommended tools/services that you use with your blogging?
Hotjar for microsurveys, visitor recordings, etc
Sumo.com for email collection of all types
Moz for traffic, keywords, and more
7.) What advice would you have for someone who is just starting with their first blog?
Look at the top five blogs that you love to read, and deconstruct them. Work backwards. Why do you like them so much?
Don't look at the specifics of how they're doing things (images, content length, etc.), instead look at how their positioning hooks you, or how their topic choice gets you coming back. Look at the high level things that make a big difference.
From there, spend some time brainstorming how you can use some of what you've learned on your own blog. Then, spend lots of time researching, writing, and promoting 🙂
8.) What's the best advice or tip you've discovered about blogging since getting started?
I think the best advice I've heard (and that I still try to internalize) came from Derek Halpern. Spend 20% of your time writing, and 80% promoting. That doesn't mean write for 30 minutes and promote a weak piece of content. That means, that whatever time it takes to write a very high quality piece of content, spend 4x that long promoting it.
One interesting side effect is that you start looking at whether the topics you're writing about are worth that type of promotion time.
9.) If you only had $100 to start a new blog, how would you use it?
I'd use part of it on Sumo.com tool to help me collect leads, the rest on hosting. After that, it's really just my time on research, writing, and promoting.
The most valuable things that need to be done on a blog don't cost money. They do involve you investing some time doing them though.
10.) How can readers of the blog get in touch with you?
My personal twitter and our product.
4 Effective Tips for Boosting Reader Engagement on Your Blog
If you want your blog to be successful and bring good profits, you need to ensure that your posts not only attract traffic but engage the readers. To do this you'll need to experiment with content formats, open dialog with the audience, involve influencers, and above all, understand your audience's exact wishes.
From online videos to content creation and social media, there seems to be an endless supply of new traffic out there and different ways to pull users back to your site. With all of this in focus and on the minds of bloggers everywhere, we wanted to highlight some of the best ways to boost content engagement, using many of the preferred mentions we've already highlighted.
4 Ways to Boost Your Blog Content Engagement Rate Fast
Post videos
Even if you don't run a vlog, you need to post an occasional video because that's the 'hottest' type of content today. Check out an aggregation of video marketing statistics offered by Forbes to see why exactly your blog needs more video content. Note that social videos generate more shares.
Live video streaming is also greatly popular today, so be sure to launch an occasional Facebook Live session to share something interesting with your followers. Then post a recording of the stream on your blog so those who missed the airing will be able to enjoy it anyway.
Research your audience in great detail
To boost reader engagement on your blog you need to understand what motivates your targeted audience to actually get into your content. You'll need to not only consider the analytics data that will show you which of your posts are most popular. You also need to search for information on your targeted audience, such as what kind of posts are generally more popular with them.
The more precise you are in developing targeted content, the higher the reader engagement rate will be. This means that if you seek to create a diverse readership base, you might need to consider launching several websites. In that case, you'll need to use specialized software and a hosting service that allows you to run multiple blogs. This will make managing them easier, so you'll be able to focus on creating several posts. Bear in mind that you might be able to apply the same basic content strategy to all your blogs, even if they differ in subjects.
The differences in those strategies and individual posts will be dictated by the data you get from a detailed study of targeted audiences.
Get more influential persons involved
Influencers of any kind can help you boost reader engagement on your blog because if they promote your content, their loyal readers will want to read it themselves. You can also generate more traffic and engagement by mentioning various celebrities and popular bloggers.
A perfect example of this can be seen in one of our expert roundup posts, where 73 different online marketers and bloggers took the time to share their expertise on social media.  The benefit here wasn't also just for our site. Each of the experts got a lot of exposure out of this, and the audience loved the content as well.
However, you'll need to be careful if you choose to use mentions. For celebrities, you should research laws and regulations surrounding the issue. You need to be 100% sure that you won't be sued for mentioning someone's name or other information in your post. When you mention bloggers, you'll need to consider those rules too as well as give them a heads up about doing this.
Having various opinion influencers popular with your target audience is a great boost to your blog and personal brand. This will also increase your reach as you'll get an indirect contact with the influencer's audience.
However, attracting influencers is a big challenge, especially for a blogger. You can use the tips from Neil Patel, a true marketing guru. Think carefully about how to adapt them to your situation.
Post engaging graphics
Much like with videos, you should post relevant graphics to boost reader engagement because this type of content is popular and shareable. Infographics are particularly effective for this, so be sure to create some. It will be best if your infographics have some original data on relevant topics. But, even simple step-by-step instructions can generate decent shares and likes.
Your every post should contain several images by default as they promote reader engagement and memorization. Be sure to add .GIFs as well, because these graphics are in trend now.
Best Search Engine Marketing and SEO Practices to Follow in 2018
Marketing often requires four basic factors: first, there should be people with unsatisfied needs; second, these people should have the desire to be satisfied; third, there should be opportunities for communication; and fourth, there should be an exchange of goods or services. A businessman with keen acumen for business opportunities would readily recognize these unsatisfied needs, build opportunities for communication with these people, and relay the service or product that could satisfy their needs. The important thing is that the prospective businessman is able to reach his target audience via good marketing strategies and tactics.
Understanding Search Engine Marketing
Marketing strategies have greatly changed since the introduction of the World Wide Web. As the Internet expands, it also provides good avenues for new marketing strategies and tactics. It also engenders new buying behavior among consumers, as contemporary consumers first search online for a product or service that they need before purchasing it. On the other hand, business owners are now required to create their own websites to be relevant online.
As highlighted in this article, writing for humans is always going to be the example to follow. It also means keeping the following SEO guidelines in mind when creating content:
Keep it unique. Avoid duplicating content that's already out there. Ask yourself: what can I add to this ongoing conversation?
Do more research than competitor sites have done.
Consider all options: infographics, videos, podcasts, an interview, a step-by-step guide or even a new tool or template. 
Remember that longer content gets more links. If your page is supported by high-quality links, it will move up in the ranks. Although Google has stated that even a few sentences can rank, in general, you're better off creating content that is at least 300 words or more.
One form of effective online marketing is search engine marketing. It involves website promotion aimed at increasing the visibility of your business site online. It is also designed to make your site rank higher on the search engine page results (SERP). However, this marketing form is wrought primarily through paid advertisement.
In 2007, for example, advertisers in the U.S. had spent 24.6 billion dollars on this type of marketing. Google, on the other hand, leads the pack of search engines that profited from search engine marketing. Furthermore, in the second quarter of 2015, Google got a sizeable 73.7% share of profits from search engine marketing as compared to 26.3% of Yahoo/Bing. Based on these data, search engine marketing appears to be a very profitable business that rakes billions of dollars of profit for search engines.
Social Media Marketing
Your online marketing strategies and tactics would never be complete without tapping into social media. Services like Facebook, Instagram, Pinterest, Baidu Tieba, and LinkedIn have also been used for marketing. LinkedIn, for example, as an employment-oriented service can be used to promote your services and get more mileage for your online marketing efforts, but keep in mind that it is primarily used to establish professional networks.
Just take a look at the screenshot below and how LinkedIn can provide such great information for anyone looking for earnings and jobs reports within any specific niche market. Not only will these same results rank and appear within the search results, they are also heavily shared through social media as well.
Search Engine Optimization
Aside from search engine marketing which makes use of paid advertising, you can also make use of search engine optimization (SEO). Search engine optimization is another way of expanding the online visibility of your site without necessarily paying for online advertisements. Search engines have organic or natural page results, known as SERP, and you can influence these organic results through SEO.
Not many, however, are experts in SEO. Hence, if you are a businessman who doesn't have the know-how on SEO, you should visit BestSEOCompanies.com and search for the expert that fits your needs. If you want a reliable and trustworthy SEO specialist, this website can really help you with its list of the top 50 SEO services that you can immediately hire.
Business websites that are ranking high in the SERP usually gets two-pronged benefits. First, if your site ranks high in the SERP, chances are casual searchers will click on your website, and you can turn them immediately into actual clients. Additionally, if you get more clicks and visits from casual searchers, the search engine will further rank your website higher.
What Is the Chief Benefit of Going the Extra Blogging Mile?
10:15 PM on a Sunday night.
After waking at 7 AM I did an hour of yoga.
I followed up with 4 hours of blogging work.
Toss in another 4 hours of blogging work plus a 1 hour walk and some R and R, and where I am late on a Sunday night. Going the extra blogging mile.
I love blogging. Working late on a Sunday does not feel like going the extra mile because blogging feels fun to me. But putting in a bit more effort when I feel tired helps me to help more people. Going the extra blogging mile also makes me memorable in the eyes of readers.
I know other bloggers who go the extra mile.
My friend Ronald at Web SEO Marketers runs a first rate blog.
Beyond his super content though, he goes the extra blogging mile in the relationship-building department.
A few moments ago I saw this update in my stream when I logged in to Facebook:
Buying the paperback version of my blogging eBook would have been awesome in and of itself. But Ronald snapped a selfie holding the paperback, noted how he just received my book in the email and tagged me to let me know he bought my book and he'd see me in paradise.
Brilliant!
He perfectly embodies how you go the extra mile relationship building wise. Compassionate, heart-centered bloggers think of how they can help folks out. Generous folks always stick out in your mind because we resonate with people who are kind, helpful and genuine in all they do.
Being Memorable Helps Expand Your Presence
I noted Ronald's rocking blog in this post because he is a skilled blogger, because he shouted out buying my book on Facebook and because both factors make him memorable. I could not fall asleep until I wrote this post and shouted him out because it feels fun to spread the love and to help you guys understand the chief benefit of going the extra blogging mile; people will remember you.
If people remember you they will feature you, interview you, invite you to guest post on their blog, or they will hire you or buy your stuff. As your features, interviews and guest posts increase you will appear to be all over the place in your niche, growing your business slowly and steadily until your generosity and willingness to go above and beyond results in exponential growth of your online presence.
Alonzo Pichardo embodies this type of massive growth over the long haul by going the extra mile.
Check out his Instagram account.
His follower growth and overall engagement levels are staggering, with 55,000 followers receiving Alonzo's update on the platform.
Alonzo continues to get so many followers because he gave so much of his time, skills and expertise over the past decade. He did not attract 55,000 followers after a week of going the extra blogging mile. He generously served folks for a decade and continues to help folks even if doing so takes him late into the night, becoming more memorable to more folks around the world.
Be Patient
Be patient and persistent in creating value and building bonds. Good things take time.
You may not make a penny through your blog for 6 months after doing the right things with the right energy but you will succeed over the long haul. Every kind act is rewarded over time.
Keep helping people. Focus on the process, not on outcomes. Stay up late to write the guest post, linking in to your blogging buddies to increase their exposure. After you purchase a book, take a selfie and tag the author on social media. Think of how you can impact humanity in a generous, significant way, one friendship and one generous act at a time.
Go the extra blogging mile.
Accelerate your blogging success over the long haul.