How to create a simple Gadget for Blogger with the new API (Part 1)
Last week, I explained Blogger's new API for Gadgets which enables us to draw upon Blogger feeds in order to create useful and interactive gadgets.
In this post, I'll explain how to create a very simple Gadget which draws upon Blogger feeds to create a simple "subscription" gadget which you can install in your Blogger blog. Unlike regular "widget installers", anyone who installs this gadget in their blog will not need to input their blog's URL in order to retrieve the blog feeds: instead, the blog feed will be generated automatically by the gadget.
The basic structure of a Blogger gadget
To create a gadget for Blogger, we first need to understand the basic structure we will be working with.
Gadgets for Blogger (and Google) are constructed of XML files. Don't worry if you have no experience with XML – provided you can use a bit of HTML you can easily create a gadget using this tutorial!
This is how a really basic gadget is coded:
<?xml version="1.0" encoding="UTF-8"?>
<Module>
<ModulePrefs
title="A Sample Gadget">
   

// More Module Preferences go here


</ModulePrefs>

 <Content type="html">
 <![CDATA[

    

HTML content goes here



 ]]>

 </Content>
</Module>
We're going to use this structure to build a simple gadget which wil retrieve the posts feed of the Blogger blog it is installed on to create a "subscription" link.
To achieve this, we need to utilize some "Module Preferences" for the Gadget, and a little bit of JavaScript.
Module Preferences for creating our simple subscription gadget
When we create our gadget, we can add a number of "module preferences" to our gadget which create interactive functions.
In the example above, you can see I added a title to the gadget (title="A Sample Gadget").  We could also add the name and URL of the author, like this:
<ModulePrefs
title="A Sample Gadget"
author="Amanda Fazani"
description="Testing a sample gadget"
author_email="foobar@mail.com"
height="200">
Beneath this section in the example gadget above, you will notice a section where we can add more Module Preferences.
Here we can add some "required features" which enable us to parse and display aspects of the blog feed in which the gadget is installed.
To create our simple subscription gadget, we need to use the google.blog feature. This feature relies on the opensocial-0.7 feature (a current bug in the system, which should be resolved soon) so we need to include this feature too.
Here's how to include these required features in our sample gadget:
<?xml version="1.0" encoding="UTF-8"?>
<Module>
<ModulePrefs
title="A Sample Gadget">
 

<Require feature="opensocial-0.7"/>
 <Require feature="google.blog"/>


</ModulePrefs>

 <Content type="html">
 <![CDATA[



HTML content goes here



 ]]>

 </Content>
</Module>
The google.blog function enables us to retrieve elements of the blog feed. Using this feature, we can call:
The main posts feed URL
The main posts feed as JSON
The main comments feed URL
The main comments feed as JSON
Post and comment feeds for individual post pages, as both the feed URL and JSON
These elements (and the code required to call them) are documented fully in the Blogger Gadgets documentation. For the purpose of this tutorial, we'll concentrate only on retrieving the URL of the main posts feed.
Retrieving the URL of the Blog Post Feed
In order to retrieve the URL of the post feed, we need to tell the google.blog function to retrieve the URL for us, which we can then display in the gadget.
Here's where it gets a little complicated 😉
In order to retrieve the blog feed from google.blog, we need to pass a pair of arguments. This is because google.blog loads the feeds asynchronously, so it doesn't stop the browser from "hanging" (freezing the page).
The pair of arguments consists of:
A function to call after the blog is loaded: this will tell the gadget to retrieve the feed URL and what we want to do with this URL
a call to google.blog and window.name (which prevents the browser from hanging).
We're going to call these functions using JavaScript, which is added between the <![CDATA[ and ]]> tags, like this:
<script type="text/javascript">

 function getFeedUrl() {
 document.write(viewFeeds.getPostsFeedUrl());   // This gets the posts feed and writes it in the gadget
}

 var viewFeeds = new google.Blog(getFeedUrl, window.name);  // This tells the gadget to load the function (getFeedUrl) after the blog is loaded

 </script>
The tag
viewFeeds.getPostsFeedUrl()


 

 
is the function we use to collect the URL of the posts feed.
When we add this script to our sample gadget, this should output something like this:
Now that we've been able to get the URL of the posts feed and write it in our gadget, we can make this URL into a clickable link using a little more JavaScript, like this:
<script type="text/javascript">

 function getFeedUrl() {
 document.write("<a href='" + viewFeeds.getPostsFeedUrl() + "'>Subscribe to Posts<\/a>");
}

 var viewFeeds = new google.Blog(getFeedUrl, window.name);

 </script>
With this extra JavaScript, the output of our gadget will look like this:
Here is the complete XML code for our simple subscription widget:
<?xml version="1.0" encoding="UTF-8"?>
<Module>
<ModulePrefs
title="A Sample Gadget">
 <Require feature="opensocial-0.7"/>
 <Require feature="google.blog"/>
 </ModulePrefs>

 <Content type="html">
 <![CDATA[
 <script type="text/javascript">

 function getFeedUrl() {
 document.write("<a href='" + viewFeeds.getPostsFeedUrl() + "'>Subscribe to Posts<\/a>");
}

 var viewFeeds = new google.Blog(getFeedUrl, window.name);

 </script>

 ]]>

 </Content>
</Module>
To test this gadget, copy the code above into a simple text editor (my favourite is Notepad ++) and save the file as sample.xml.
You can then upload your XML file to your web host, and note down the URL of your gadget which will enable you to add this gadget to your blog. Alternatively you can download/use the URL for this sample gadget: download sample gadget (XML file).
Adding Blogger Gadgets to your Blog
To add (or test) Blogger gadgets in your blog, go to Layout>Page Elements in your Blogger dashboard. Choose the section where you would like to add your gadget and click on the "Add a gadget" link.
On the pop-up page, you need to click the link which says:  "Add your own".
Then paste the URL of your gadget in the space provided:
When you click "Add by URL" you should be presented with a preview of how the gadget will appear in your blog. You can then click "Save" to place the gadget in your Blogger layout, and move the position as with any regular widgets/gadgets that you add.
What else can we do with this gadget?
In the second part of this mini-series, I'll explain how to utilise "User preferences" to create interactive elements for your gadget. This tutorial will enable you to write a more complex gadget where users can change the "Subscribe to Posts" link to whatever text is preferred, and also to add an optional feed icon to the widget.
You may have also noticed that the Gadget uses default styles for the background, text and link color. Blogger's new API for gadgets enables us to parse the colour scheme of the blog and style our gadgets so they blend with the overall layout. So in part three of this series, I'll explain how to utilize the "skins" feature to create gadgets which blend with the layout of the blog in which they are produced.
Final thoughts
I hope this tutorial has provided enough information to use the updated API to create gadgets for Blogger which use the google.blog function to retrieve the URL of the posts feed.
Please feel free to build upon this basic gadget for your own purposes and let me know what you think by leaving your comments below.
Meet Daniel Cowen-Rivers of TravelWeekli.com
Blogging can lead you to many opportunities. All established bloggers now have been through the phase of being a new comers. They have experimented one way or another along the process. Trying different things out does help in determining your own style and strategy.
We've interviewed bloggers covering various niches in Meet the Bloggers. For this episode, we'd like to introduce Daniel Cowen-Rivers. He's a budding travel blogger. Read on to know more about his journey across the globe and a
1.) Please tell us about yourself and how you got into blogging?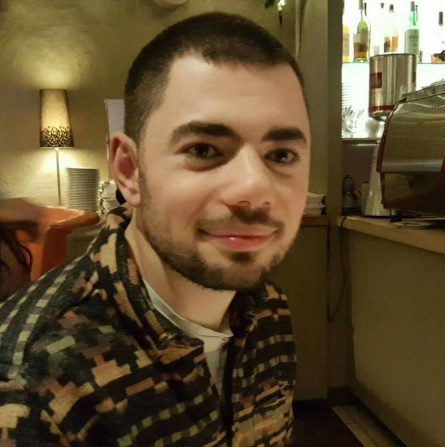 I am a budding travel blogger who travels the world and shares my experiences and travel expertise via social media and through my blog. I got into blogging as I wanted to share my traveling tips and photos with others to make them travel more before global warming destroys the world.
2.) What is the focus of your blog and why did you choose that niche?
I chose traveling to share my love of seeing the world and different country's way of living. I also wanted more people to find out about the world we live in.
3.) How are you currently monetizing your blog traffic?
AdSense. I have a few paid ads but not that many as I am still new to the game. I've started blogging since February of 2017.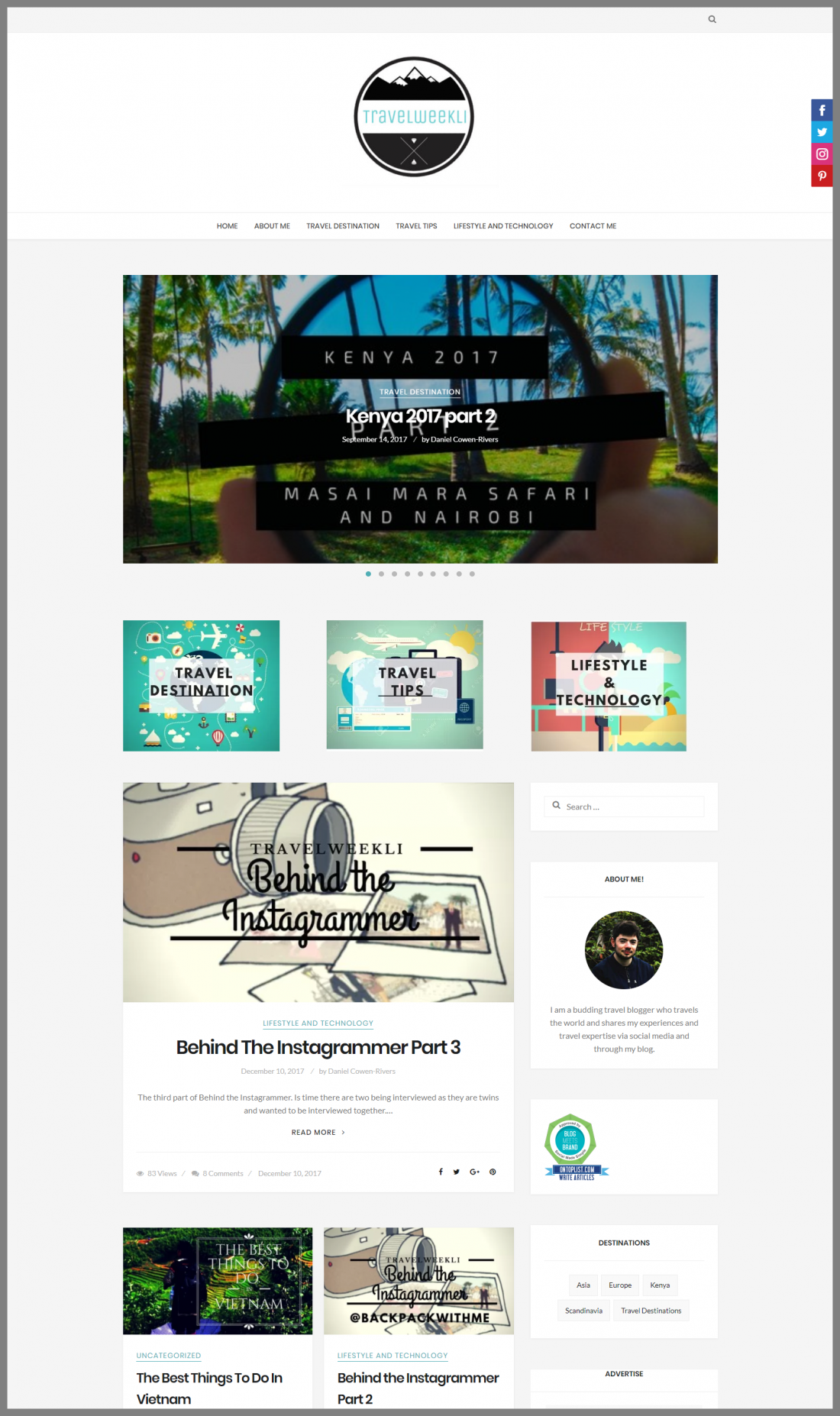 4.) What do you know now that you wish you knew when you first started blogging?
I did not know about DA and SEO that I know now is very important in order to get sponsored post.
5.) What are three blogs that you visit almost daily?
The blogs are:
6.) Can you give us three recommended tools/services that you use with your blogging?
The three services that I recommended using to help your blog are:
Yoast – A blog in called SEO by Yoast. This makes optimizing my blog post easier to rank higher on Google search.
OneNote – I'm constantly making notes for future articles. As I always have random moments where I'm going by my day and I just randomly have an idea for a blog article. I always carry my phone to write the note in OneNote.
MailMunch – is a plugin for WordPress that comes with email subscription templates that you can place in certain parts of your blog and I made mine as a popup.
7.) What advice would you have for someone who is just starting with their first blog?
Pick a niche category that you want your blog to be about. As well as this, one of the most important advice I have is one that you need to know when starting out, is how to improve your SEO and DA.
8.) What's the best advice or tip you've discovered about blogging since getting started?
Just keep blogging! After a few months, I only got a few readers per day and I've thought to quit then. However, I've read that it takes people years to get enough readers to be a full time blogger. Just keep blogging and don't stop.
9.) If you only had $100 to start a new blog, how would you use it?
I would use the money to gain more Facebook likes on my Facebook page that in turn will convert readers for my blog. This will be done by advertising the page and blog on Facebook.
10.) How can readers of the blog get in touch with you?
Three Resource Guides to Get Started with a Blog in 2018
Blogging is one of the most powerful and effective ways to build a business, brand or content platform on the internet today. With more than a billion active websites on the internet today, it's no longer about simply creating content, it's now all about engagement and building a trusted following from an audience.
This can also be attributed to the massive use and success of WordPress as a CMS over the years.
While the concept of blogging is nothing new, there are still many people and businesses sitting on the sidelines. In this article, we are going to look at three of the best resources to help you not only get started with a blog of your own in 2018, but also how to find success in the process.
Follow each of the three steps and resources below, then begin to map out your blogging focus and content strategy.
1 – How to Start a Blog
There are currently more than 300 million blogs on the internet today. While this might seem like a huge number, there are still a lot of websites and businesses that don't yet have a blog. At the same time, individuals, industry professionals, and anyone with a passion for writing or sharing their skill or expertise with the rest of the world, should also have a blog of their own. To see two great examples of what's possible through the use of blogging, be sure to check out Wahaadventures and ThePennyHoarder. Both of these sites have become huge players in the world of financial and work at home resources. Not only that, they are also generating thousands of dollars in the process. Another great resource to consider following is this how to start a blog guide from WebEmployed, which not only walks through the process of how to start a blog, but also the many different ways to make money with one as well.
With all of that in mind… if you ever wanted to make money on the internet, blogging is a great way to accomplish. However, for that to actually happen — you need to actually get started!
The first step to getting started with a blog, is to simply find a reliable resource to walk you through the process step-by-step. The good news is that this is pretty simple, and there are no technical or design skills required — as long as you use the WordPress platform. WordPress is free to use and is often installed with just a click of a button through most web hosting solutions.
If you are looking for a quick and simple tutorial on how to get started with a domain name, web hosting, and also going live with a WordPress blog, be sure to check out BloggingTips' Guide to Blogging. This resource has everything you need to walk through all of the steps mentioned above, in just a few minutes time, while also providing useful screenshots in the process.
2 – Building a Mailing List with Your Blog
Once you have your blog set up, the first thing you should focus your efforts on is creating high-quality content for your site and gaining valuable backlinks in the process. This is going to help with the SEO and organic search rankings for your site. As valuable as these components are to the long-term success and traffic of your blog, you will also need a content promotion plan in place to make sure you can keep bringing visitors back time and time again.
The sad truth is that more than 70% of the visitors that come to your site are likely never to come back. This has nothing to do with your content, but simply that there is already way too much information and website overload on the internet today.
One of the best ways to keep your audience coming back time and time again is to get them on your mailing list or newsletter. This is also quite easy to set up, as all you need is a reliable list hosting solution and an opt-in form on your site. With this structure in place, anyone can enter their email to join your list, which then allows the site owner to send out mailings at any given time.
To learn more about how to set this up, you can view this resource guide that highlights some of the top lead capture methods for getting subscribers onto your mailing. A subscription form is one of the most basic steps to getting started, but there are much better options to consider as well, such as popup windows, call-to-action buttons, and exit intent windows.
3 – How to Make Money with a Blog
Many people will start a blog with the initial goal to increase awareness and traffic to their existing brand or online business. However, what about everyone else who doesn't already have a business or monetization method in place yet? The good news is that there are plenty of ways to make money with a blog, even if you don't have anything to market or sell.
Some of the top blogs in the world today are generating millions of dollars every month simply by creating valuable content and finding unique ways to monetize their site and audience. The most common blog monetization methods in use today are affiliate marketing, Google AdSense, product creation, direct ad sales, or even selling services of your own.
To give you some examples of what's working for other site owners and bloggers in the world today, check out these top millionaire bloggers. Each of their stories and monetization methods is unique. What's also quite amazing is that each of these bloggers started from nothing and are perfect examples of what's possible through blogging, while also being an inspiration for others.
How to Find Success with a Blog in 2018
Now that you've had the opportunity to view a simple three-step process of how to create a successful blog on the internet today, it's time for you to get started.
Before registering a domain name and installing WordPress, be sure to think about the focus of your site, how it's going to provide value to your audience, and also how you can monetize it in the process. If you already have an online brand or service to offer, you should already have an idea of how a blog can be great for business.
Starting a blog is easy, but finding long-term success is usually a struggle for most bloggers. This is often because new bloggers think content creation is going to send loads of traffic to their site. However, with so many websites on the internet, this simply isn't the truth. You need to have an effective content creation and marketing plan in place to compete.
Read through each of the resource guides above and also think about your blogging content creation and marketing strategy before getting started. This will likely only take a few minutes of your time but will make a huge difference in the overall success of your site.
The Curious Case of Blogging Policy for Employees
Blogging has always been a platform to discuss ideas and spark conversation about topics, even when it comes to business. Its flexibility and use-cases are what makes blogging great to begin with.
The same thing can be said with most tools available at your disposal for your business nowadays. From learning management systems to gamification platforms, they help motivate employees and encourage high levels of performance over a sustained period.
However, there are cases when technology can be harmful to your brand, even if indirectly.
For employees, blogging can be a means to to vent out their frustration at work. Some need to release the stress they've been keeping from their colleagues. While this process may be healthy for their well-being, the same cannot be said about the employer.
If you happen to be at the wrong end of the stick in this situation, then you're probably suffering the aftermath of whatever they wrote on their blog.
You need to avoid any instance that your employees are expressing their resentment to their jobs using this medium.
While employees are people too, this does not absolve them from acting out of spite and recklessness. They need to be accountable for whatever they do that could affect the company they work for.
Therefore, you must set up a blogging policy to guide employees on how to conduct themselves online and outside of work.
Why do you need a blogging policy?
For business owners, a blogging policy is your safety net. You can't control what people say or do outside of their work hours. However, what you can control is how their words and action affect your business.
A blogging policy in place will protect your business from anything defamatory your employee might say or do. Just as much as you value the work your employees do, you also need to protect the interests and image of your company.
A blogging policy doesn't necessarily expose your employees to legal action. What the policy needs to remind your employees is accountability. What you want are not only hard-working employees but also responsible ones. You want to be working with people who respect what your company represents. If they can't observe your blogging policy, then they might not be the people whom you want as your employees moving forwards.
Your blogging policy also applies to social media. People use social media more often than a blog as a platform to express their opinions. You can use the policy to cover the blogging and social media activities of your employees to exempt your company from their online activities.
What to include in your blogging policy
When drafting your blogging policy, you need to cover as much ground as possible. You don't want to leave stones unturned for whatever reason. By being exhaustive in your policy, you exclude your company that you've worked so hard to build from sharing their opinions.
Below are the basic ones that you should cover in your policy:
Expressed consent
If your employee features your company on a blog post or a social media update, then you must require them to mention that their views were written and expressed in the content do not represent the views of the company. This rule also applies to your competitors that employees will mention on posts or updates.
At the same time, you need to request them to mention to you or the assigned managers about the post they're writing that mentions your company. This courtesy preempts you and the higher-ups to anticipate the content and gives you a chance to visit the post at your will.
As long as the employees observe the conditions in your policy on their posts, then they should be in the clear. If they act on behalf of the company, then they cross your blogging policy, and you have grounds to take action against them. You can forbid them from using your logo without your permission to avoid the possibility that readers think that the employees represent your company on their blogs.
Confidentiality
The confidentiality clause is usually included in the contract they sign before stepping foot in your office. However, there's no harm in reiterating the fact that they are forbidden to share sensitive information about your company to the public. Subjects that are not allowed include but are not limited to:
upcoming product releases
sales figures
number of products sold
trademarks
private information or those that have not been released by the company to the public
You need to be clear about the topics that employees should not discuss on a public platform to prevent them from divulging sensitive information. Encourage them to ask your PR Officer about topics that they can mention so they can avoid legal trouble.
Respect and privacy rights
If your employees paint your company in a negative light, then you have grounds for legal action against them. The last thing you want from them is a negative perception from the public, which could affect your sales performance if things escalate.
You also need to inform employees that any derogatory statements made about your company in their posts affect not only your business but also the other employees that have nothing to do with the post in the first place. Not to mention, you can terminate your contract with these employees, if push comes to shove. Surely, nobody would want that mess in their hands.
Wrapping it up
The blogging policy provisions above simply suggestions on how you approach this issues to your employees. I don't claim to be an expert on these things. However, it doesn't make me wrong either. The entire point of this post encourages you to cover all the bases of your business and protect it from any potential harm that your employees may commit against you. Therefore, you need to consult a professional to help you draft your policy and make it iron-clad and airtight as possible.
Also, it's also best to mobilize employees to share content from within your company through employee advocacy. Instead of employees posting stuff on social media beyond your control, you can incentivize their social media and blogging activities to the benefit of your company.