Should you be worried that Blogger will delete your blog?
A real concern for Blogger users is whether Blogger could (and would) delete their blog without warning or explanation. Indeed, there are many forums where people have posted their horror stories regarding the deletion of their Blogger blogs.
After reading such stories, many Blogger users begin to panic and make arrangements to "defect" to WordPress believing this to be  safer place to home the hard work they have put into their posts.
Should we really be concerned that our Blogger blogs will be deleted without warning?
In short, the answer is "NO"!
The vast majority of Blogger users should not feel concerned in the slightest. Only blogs which are believed to violate Blogger's Terms of Service or Content Policy will be deleted; even then a warning will be issued to the owner of the blog to explain these issues along with the means to appeal against the threat of deletion.
Why would Blogger delete a blog?
Those who complain their blog has been "suddenly" deleted by Blogger generally fall into one of two categories:
Those who have consciously broken Blogger's terms of service (spammers, scrapers and malicious hackers)
Those who have not logged into their Blogger account for a long time  (and whose contact details are not up to date) whose blog was flagged under suspicion of malicious content and did not respond in due time.
Blogs which have violated Blogger's terms of service are likely to contain:
Spam or transmit malicious code (viruses)
Infringements of copyright (where the author has unlawfully copied copyrighted content without permission)
Hateful content, which is directed to any group of people (based on race or ethnic origin, religion, disability, gender, age, veteran status, and sexual orientation/gender identity)
Violent content, where threat is directed towards a person or group of people
Private or confidential information (such as social security details, credit card numbers, and other personal information)
In my opinion, only a small percentage of Blogger users would deliberately violate Blogger's terms of service by publishing such content on their blogs. Since these bloggers bound themselves to these terms when signing up with Blogger, they should also be prepared for their service to be suspended when found to be violating these terms.
My blog has been suspended/deleted – But I haven't done anything wrong!
Unfortunately, some innocent Blogger users find their blogs to be suspended (or worse, deleted) because they are suspected of publishing content which violates Blogger's policies.
There are literally millions of blogs using the Blogger platform (a Google search today produced 305,000,000 results!). Policing this vast number of blogs manually would be a mammoth task requiring thousands of participants. Instead, Blogger uses automated systems to analyse blogs for potentially malicioius content; sites which are suspected of violating the content policy are then suspended. When this happens, a notice will be sent to the owner of the blog in question, and a notice will be posted on the owner's dashboard along with details of how to appeal:
If your blog is disabled, it will be listed on your Dashboard, but you will not be able to click on it to access it. If this is the case, there will be a grace period during which you can request that it be reviewed and recovered. The disabling is a result of our automated classification system marking it as spam. Because this system is automated there will necessarily be some false positives, though we're continually working on improving our algorithms to avoid these. If your blog is not a spam blog, then it was one of the false positives, and we apologize (from Blogger Help).
Blogs which are suspended are not deleted right away. Instead, the owner has around two weeks to respond to this suspension by means of appeal. Each appeal is examined personally (by a human) to determine whether a violation of content has actually happened, or whether the automated systems identified a false positive.
Where a genuine mistake has occured and an appeal filed against the suspension, the blog will be fully restored (usually within a few hours).
In cases where an accidental violation of content has resulted in suspension of the blog (for example, after embedding a widget or script which seemed innocent but violates content policy), more details would be provided to the blog owner so the offending content can be removed before the blog is restored fully.
Blogs which potentially contain content which violates Bloggers terms will be deleted after a certain time unless the owner appeals against the decision. Therefore, it is very important to keep your contact details up to date with Blogger!
If your email address is outdated, you will not receive such notifications from Blogger and risk having your blogs deleted in the (unlikely) case that your blog is flagged as "spam".
To update your email address simply sign in to your Google account and add/edit your email address in the "Personal Settings" section. The "Primary" email address is that which such notifications will be sent to, so be sure this is an email address you check often!
If you have not updated your Blogger account to link this with your Google account, you can log into Blogger using your old log-in details and will be prompted to create/manage your Google account. After this, you will be able to update your email address in your Google account settings.
My blog has been deleted. Can I get it back?
Even if your blog has been deleted and your grace period has expired, there may be a chance you could have your blog restored. Check your dashboard to see if there is any notification of suspension and if so, follow the steps offered to appeal against this decision.
Alternatively, contact Blogger support by filling in a form from this page or by posting a polite request in the Blogger Help Group which is monitored by members of the Blogger Support team.
What about "Adult" sites?
Blogger does permit "adult content" to be published using the platform as outlined in the content policy. Those who choose to post adult content are advised to have a "content warning" page before the main content is shown which advises visitors of potentially objectional material. This setting can be toggled through the "Adult content" setting in the Settings>Basic section of the Blogger dashboard.
This setting is useful to prevent minors from accidentally accessing the page, but as some Blogger users have informed me, this also prevents results from their blog appearing on "safe" searches of major search engines.
Those who publish adult images/video in their Blogger blogs may find their blogs subject to a mandatory content warning page as outlined in Blogger's Content Policy:
Image and video content that contains nudity, sexually graphic material, or material that is otherwise deemed explicit by Google should be made private. Otherwise, we may put such content behind an interstitial.
Adult sites published for commercial purposes are not permitted at all.
Are Blogger's Policies Fair?
Although there are a handful of web hosts which turn a bline eye to malicious code, copyright infringement and other unwanted content, these are few and far between. Reputable blog hosts and blogging services have similar terms of service to those imposed by Blogger, and would delete/suspend accounts which violate these terms in much the same way.
Blogger seems to have attracted an unwarranted bad reputation for deleting blogs which violate the terms of service, especially when cracking down on the number of spam blogs in the system (when innocent bloggers are caught in the crossfire).
We must understand that Blogger hosts millions of blogs with few limitations on what we can post. Our blogs are hosted for free with no limitations on the number of posts or size, and there are no time limits for how long a blog will be available to read or update.
Due to the sheer scale of Bloggers service, there are also many voices of complaint. But when you consider the terms of use, and the methods Blogger use to try and make the community a spam/virus and friendly place to blog, is it reasonable to accuse Blogger of being unfair?
Think about it this way: if Blogger was to delete blogs "willy nilly", there would be a massive outcry from the whole blogging community. Blogger does not delete blogs for no reason: only those which are suspected of malicious activity will be deleted, and only then after a suspension and grace period where the author can appeal.
Would you prefer Blogger to be a service where spammers, hackers and content scrapers run riot or one which looks after the community as a whole, removing questionable blogs where nescessary and ensuring false-positives can be rectified where innocent blogs are suspended?
I imagine 99.9% of Blogger users prefer the latter option; those who choose the first would be better posting elsewhere…
How to ensure your blog is not deleted
To ensure the safety of your blog, you only need to do two things:
Adhere to the terms of service
Ensure your contact details are up to date
Blogger continually refines the methods used to automatically scan and suspend blogs suspected of questionable content, though a tiny percentage of false positives occasionally occur. By ensuring your email address is up to date, you can deal with any issues quickly. Rather than complain about blogs being suspended, feel safer in the knowledge that Blogger is working to make this service a safe and enjoyable experience for us all.
Image credits: Delete button by .::HIMU::.; Silence by circo de inviern0; Balancing child by Pink Sherbert Photography. All via Flickr Creative Commons.
7 Less Obvious Keyword Research and Content Analytics Tools
Digital content has several powerful benefits over print content: It's cheaper to distribute, it's open and global (especially when it's in English which most of the world can understand) and it offers an unprecedented opportunity to understand your audience better.
Actually, technology and digital content do wonders: Having both you can target your customers precisely when and where they are most willing to engage.
"Content and technology are strange bed fellows. We are joined together. Sometimes we misunderstand each other. But isn't that after all the definition of marriage?"
To get an idea of how powerful digital content metrics can be, read and bookmark these articles:
Here are a few free or cheap content analytics options any blogger can afford:
1. UberSuggest
UberSuggest is a free keyword research tool that offers quite a few cool content analytics features.
This tool is a bit broad but I felt it deserved a place on the list. It works by letting you put in key phrases and then gives you data on that and alternatives, including the power of that phrase on Google. You will be getting an idea of what phrases are already being cornered by competitors, as well as which ones are easier for you to target.
I also like this one as a content planning tool as I can find ideas for content related to an idea I had. I have come away from UberSuggest with my editorial calendar full many times.
2. Cyfe
Cyfe is not just analytics tool. In fact, you can use for anything under the sun, it's a Swiss knife of business monitoring. And it has some cool analytics integrations that will make your analytics reports much faster and easier to access.
Use Cyfe to integrate your favorite Google analytics reports, monitor your social media growth, traffic spikes and more.
3. Tweriod
Tweriod might not be quite as relevant as it once was, but it is still a useful tool if you post a lot of content on Twitter. Find out what times your followers are most active. Discover optimal posting time. See what content was most popular and when.
All of this will help you use Twitter more effectively as a content marketing platform, as well as an engagement platform for one on one and influencer marketing.
4. Scoop.it
Scoop.it is pretty cool but the free plan is very limited. Basically you get a single page and up to ten "scoops" per day. Basically it is going to curate relevant content to give you insights into what is working well within your industry.
As an overall marketing tool, the professional version is a pretty cheap way to improve your ROI and get more bites when it comes to clicks. It is worth signing up for a free account and getting a taste of what they are about.
5. HotJar
HotJar is a cool heat map generator allowing you to clearly see which parts of your content attract most attention.
Heat maps are pretty cool. They work by tracking what visitors to your site are spending the most time looking at and clicking on. Then it gives you a visual of hot and cold areas of your site, which can point to anything from design flaws to lackluster or thin content. You can try them out for free and get a more complete picture from both a website and content perspective.
Here are more options for data visualization which will help you understand your audience and analytics reports better.
6. Social Mention
Is your content being shared or talked about? Is your brand being mentioned? You can find out on Social Mention, which allows you to search for proof of that very thing and find out what people are saying about you and what you post.
It is a bit simplistic, but very helpful.
7. iSpionage
Adwords and SEO keywords are a bit part of what you and other brands on competing for, not just customers. iSpionage gives you a look at what it is that those competitors are using and how it is working for them.
It is surprisingly affordable compared to many other similar tools and has a decent features list. I would definitely give this one a try.
Are there any other affordable content analytics tools except for the most obvious ones (like Google Analytics)? Please share them in the comments!
Meet Daniel Cowen-Rivers of TravelWeekli.com
Blogging can lead you to many opportunities. All established bloggers now have been through the phase of being a new comers. They have experimented one way or another along the process. Trying different things out does help in determining your own style and strategy.
We've interviewed bloggers covering various niches in Meet the Bloggers. For this episode, we'd like to introduce Daniel Cowen-Rivers. He's a budding travel blogger. Read on to know more about his journey across the globe and a
1.) Please tell us about yourself and how you got into blogging?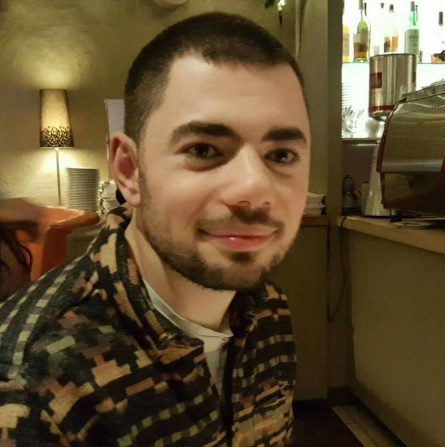 I am a budding travel blogger who travels the world and shares my experiences and travel expertise via social media and through my blog. I got into blogging as I wanted to share my traveling tips and photos with others to make them travel more before global warming destroys the world.
2.) What is the focus of your blog and why did you choose that niche?
I chose traveling to share my love of seeing the world and different country's way of living. I also wanted more people to find out about the world we live in.
3.) How are you currently monetizing your blog traffic?
AdSense. I have a few paid ads but not that many as I am still new to the game. I've started blogging since February of 2017.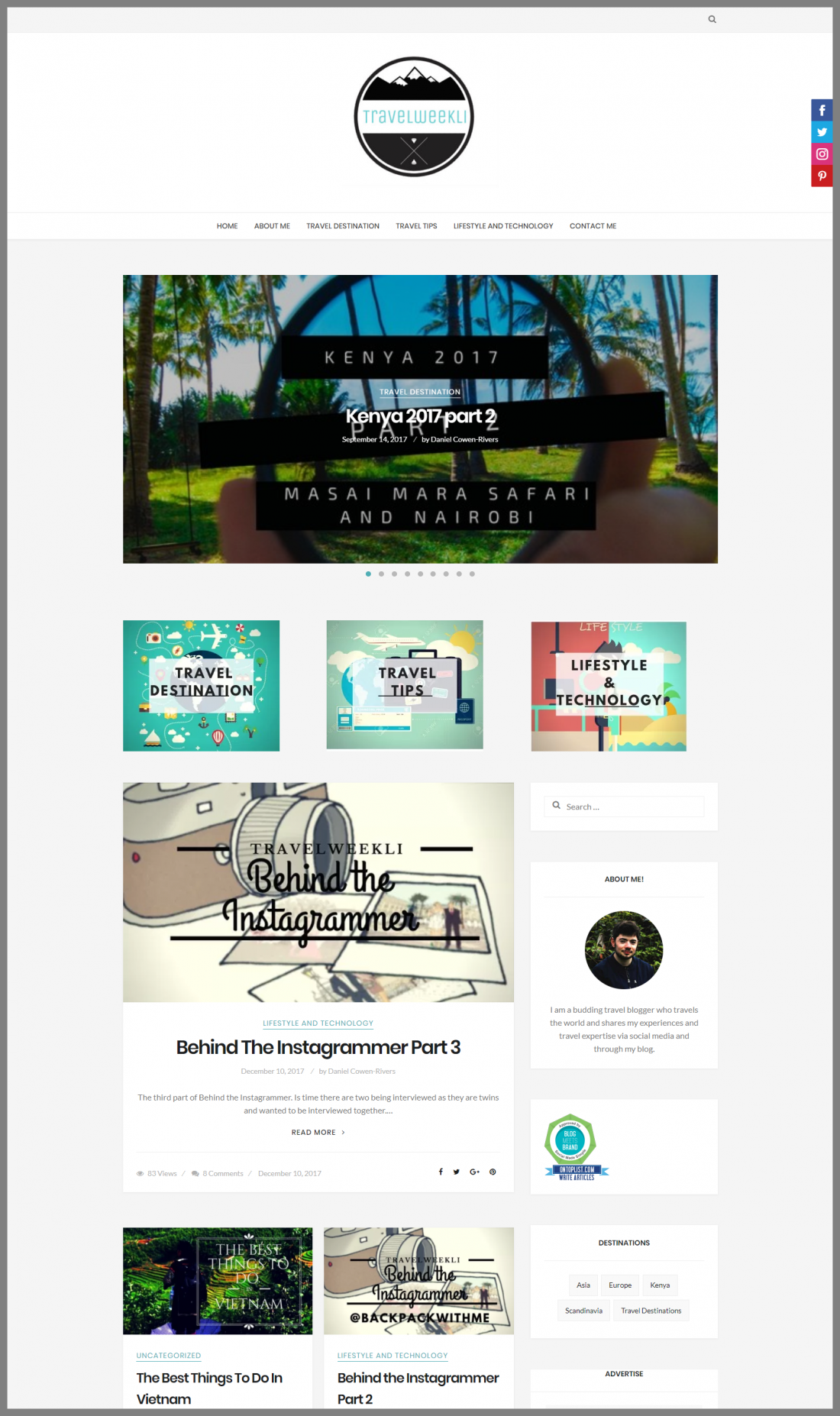 4.) What do you know now that you wish you knew when you first started blogging?
I did not know about DA and SEO that I know now is very important in order to get sponsored post.
5.) What are three blogs that you visit almost daily?
The blogs are:
6.) Can you give us three recommended tools/services that you use with your blogging?
The three services that I recommended using to help your blog are:
Yoast – A blog in called SEO by Yoast. This makes optimizing my blog post easier to rank higher on Google search.
OneNote – I'm constantly making notes for future articles. As I always have random moments where I'm going by my day and I just randomly have an idea for a blog article. I always carry my phone to write the note in OneNote.
MailMunch – is a plugin for WordPress that comes with email subscription templates that you can place in certain parts of your blog and I made mine as a popup.
7.) What advice would you have for someone who is just starting with their first blog?
Pick a niche category that you want your blog to be about. As well as this, one of the most important advice I have is one that you need to know when starting out, is how to improve your SEO and DA.
8.) What's the best advice or tip you've discovered about blogging since getting started?
Just keep blogging! After a few months, I only got a few readers per day and I've thought to quit then. However, I've read that it takes people years to get enough readers to be a full time blogger. Just keep blogging and don't stop.
9.) If you only had $100 to start a new blog, how would you use it?
I would use the money to gain more Facebook likes on my Facebook page that in turn will convert readers for my blog. This will be done by advertising the page and blog on Facebook.
10.) How can readers of the blog get in touch with you?
Three Resource Guides to Get Started with a Blog in 2018
Blogging is one of the most powerful and effective ways to build a business, brand or content platform on the internet today. With more than a billion active websites on the internet today, it's no longer about simply creating content, it's now all about engagement and building a trusted following from an audience.
This can also be attributed to the massive use and success of WordPress as a CMS over the years.
While the concept of blogging is nothing new, there are still many people and businesses sitting on the sidelines. In this article, we are going to look at three of the best resources to help you not only get started with a blog of your own in 2018, but also how to find success in the process.
Follow each of the three steps and resources below, then begin to map out your blogging focus and content strategy.
1 – How to Start a Blog
There are currently more than 300 million blogs on the internet today. While this might seem like a huge number, there are still a lot of websites and businesses that don't yet have a blog. At the same time, individuals, industry professionals, and anyone with a passion for writing or sharing their skill or expertise with the rest of the world, should also have a blog of their own. To see two great examples of what's possible through the use of blogging, be sure to check out Wahaadventures and ThePennyHoarder. Both of these sites have become huge players in the world of financial and work at home resources. Not only that, they are also generating thousands of dollars in the process. Another great resource to consider following is this how to start a blog guide from WebEmployed, which not only walks through the process of how to start a blog, but also the many different ways to make money with one as well.
With all of that in mind… if you ever wanted to make money on the internet, blogging is a great way to accomplish. However, for that to actually happen — you need to actually get started!
The first step to getting started with a blog, is to simply find a reliable resource to walk you through the process step-by-step. The good news is that this is pretty simple, and there are no technical or design skills required — as long as you use the WordPress platform. WordPress is free to use and is often installed with just a click of a button through most web hosting solutions.
If you are looking for a quick and simple tutorial on how to get started with a domain name, web hosting, and also going live with a WordPress blog, be sure to check out BloggingTips' Guide to Blogging. This resource has everything you need to walk through all of the steps mentioned above, in just a few minutes time, while also providing useful screenshots in the process.
2 – Building a Mailing List with Your Blog
Once you have your blog set up, the first thing you should focus your efforts on is creating high-quality content for your site and gaining valuable backlinks in the process. This is going to help with the SEO and organic search rankings for your site. As valuable as these components are to the long-term success and traffic of your blog, you will also need a content promotion plan in place to make sure you can keep bringing visitors back time and time again.
The sad truth is that more than 70% of the visitors that come to your site are likely never to come back. This has nothing to do with your content, but simply that there is already way too much information and website overload on the internet today.
One of the best ways to keep your audience coming back time and time again is to get them on your mailing list or newsletter. This is also quite easy to set up, as all you need is a reliable list hosting solution and an opt-in form on your site. With this structure in place, anyone can enter their email to join your list, which then allows the site owner to send out mailings at any given time.
To learn more about how to set this up, you can view this resource guide that highlights some of the top lead capture methods for getting subscribers onto your mailing. A subscription form is one of the most basic steps to getting started, but there are much better options to consider as well, such as popup windows, call-to-action buttons, and exit intent windows.
3 – How to Make Money with a Blog
Many people will start a blog with the initial goal to increase awareness and traffic to their existing brand or online business. However, what about everyone else who doesn't already have a business or monetization method in place yet? The good news is that there are plenty of ways to make money with a blog, even if you don't have anything to market or sell.
Some of the top blogs in the world today are generating millions of dollars every month simply by creating valuable content and finding unique ways to monetize their site and audience. The most common blog monetization methods in use today are affiliate marketing, Google AdSense, product creation, direct ad sales, or even selling services of your own.
To give you some examples of what's working for other site owners and bloggers in the world today, check out these top millionaire bloggers. Each of their stories and monetization methods is unique. What's also quite amazing is that each of these bloggers started from nothing and are perfect examples of what's possible through blogging, while also being an inspiration for others.
How to Find Success with a Blog in 2018
Now that you've had the opportunity to view a simple three-step process of how to create a successful blog on the internet today, it's time for you to get started.
Before registering a domain name and installing WordPress, be sure to think about the focus of your site, how it's going to provide value to your audience, and also how you can monetize it in the process. If you already have an online brand or service to offer, you should already have an idea of how a blog can be great for business.
Starting a blog is easy, but finding long-term success is usually a struggle for most bloggers. This is often because new bloggers think content creation is going to send loads of traffic to their site. However, with so many websites on the internet, this simply isn't the truth. You need to have an effective content creation and marketing plan in place to compete.
Read through each of the resource guides above and also think about your blogging content creation and marketing strategy before getting started. This will likely only take a few minutes of your time but will make a huge difference in the overall success of your site.